Satisfaction Surveys
Obtaining timely, honest feedback from your patients is necessary to ensure the organization is meeting their needs. Addressing their concerns is essential to the organization's long term success. In addition, providing constant feedback to your team ensures they are aware of the importance of their daily patient interactions.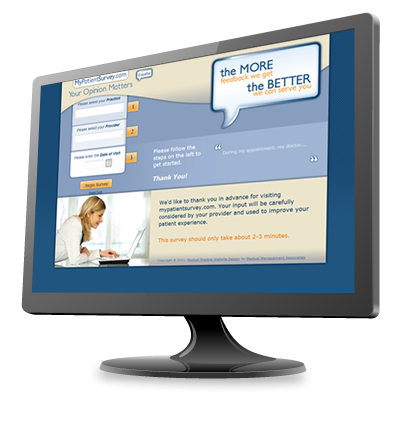 MMA'S Online Patient Satisfaction Surveys provide easy internet completion, rapid feedback and system-based comparisons so you know which units need the assistance.
Our Online Patient Satisfaction Survey includes the following:
Online web survey site using the www.mypatientsurvey.com design.
Standardized Patient Satisfaction Survey with twelve (12) structured response questions and two (2) unstructured responses.
Unlimited on-line survey access.
Electronic report of Patient Satisfaction results for each individual physician with individual benchmarking to their group practice.
Electronic summary of overall Patient Satisfaction results.
Electronic report of survey responses by IP address.
Initial supply of 2" x 3.5" patient notification cards (1,000 per provider) and 11" x 17" office posters (two per practice location).
A master template for paper survey. (If a practice decides to give patients the option of completing a paper based Patient Satisfaction Survey, the responses will be entered into the online survey by the practice's staff.)
Training for administrative staff either on-site or via web conference as determined by the practice.